Though it may be my last, I made my first iPad app this morning.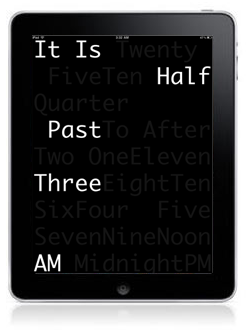 Its job is just to look cool while hanging on a wall. Also, it tells you what time it is in a mildly easy-to-read font called Monaco. Come to think of it – I think that's what my terminal is set to.
Just head there with your iPad, then click on the extras button in Safari and "Add to Home Page"!
It'll download everything it needs to run to your iPad, and you can use the clock forever and ever after that – even if you're not online.
Cheers, all!